Homophobic Oklahoman Congresswoman Sally Kern, who on more than one occasion has compared gays and lesbians to terrorists, has shown that she's not hateful toward just one group of people. The hateful Republican has now proven herself to also be both racist and sexist.
CBS News reports on the bigoted comments she made during a debate on an affirmative action bill.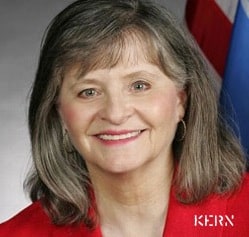 "During a legislative debate late Wednesday, Kern questioned whether there were disproportionately high numbers of blacks in state prisons because 'they didn't want to work hard in school.' Kern also said women don't work as hard as men because they 'tend to think a little bit more about their families.'"
Kern has since issued an apology:
"I want to humbly apologize for my statements last night about African Americans and women. I believe that our government should not provide preference based on race or gender. I misspoke while trying to convey this point last night during debate. Women are some of the hardest workers in the world. My husband is a pastor of a diverse inner-city church and the way that my words came out last night is certainly not my true spirit."
The NAACP, the Oklahoma Democrat Party and the Oklahoma chapter of the Council of American-Islamic Relations have all called for her resignation.
According to one report, Governor Mary Fallin does not want to see Kern step down: "(Fallin) said she is not going to ask Kern to step down but she is 'disappointed in her comments regarding women and African-Americans.'  The governor also said she is "glad that Rep. Kern has since apologized."
Update: GLAAD joins the number of groups calling for Kern's resignation: "Given her long and well-documented history of extreme bias towards minorities, this apology means nothing. Republicans and Democrats alike agree that the kind of blatant bigotry from an elected official like Sally Kern has no place in our public sphere."
Watch her outrageously racist and sexist rants, AFTER THE JUMP.