Over two dozen business leaders in New York have sent an open letter titled "An Open Letter from Business Leaders on The Importance of Marriage Equality" to Governor Andrew Cuomo asking him to bring marriage equality to that state. The signers include the CEOs of Goldman Sachs, Con Edison, JP Morgan's Investment Bank, Thompson Reuters as well as the executive chairman of the board of Morgan Stanley and the president of Bloomberg L.P.
The letter reads in part:
"Increasingly, in an age where talent determines the economic winners, great states and cities must demonstrate a commitment to creating an open, healthy and equitable environment in which to live and work. This is why it is so important that New York State grant full rights to all of its citizens by passing marriage equality."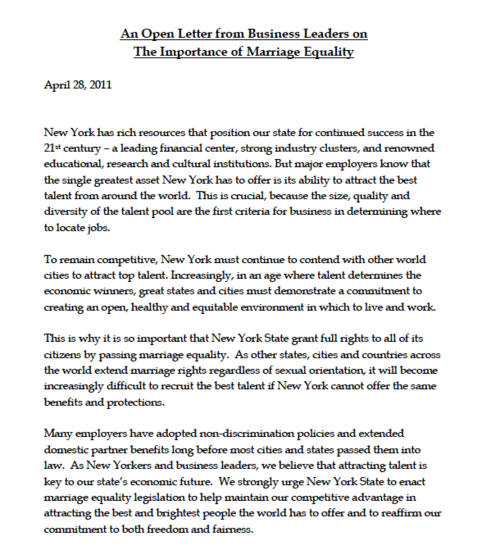 A full list of signers: Candace K. Beinecke, Tom A. Bernstein, Lloyd C. Blankfein, Kevin Burke, Philippe P. Dauman, Daniel L. Doctoroff, Patrick C. Dunican, Jr., Thomas Glocer, Jonathan N. Grayer, Klaus Kleinfeld, Rochelle B. Lazarus, Martin Lipton, Daniel S. Loeb, John J., Mack, Alan J. Patricof, Ronald O. Perelman, William C. Rudin, Kevin P. Ryan, Paul E. Singer, Jerry I. Speyer, Jes Staley, Stuart Match Suna, Kathryn S. Wylde, Strauss Zelnick, Mortimer B. Zuckerman.
WNYC mentions that one bigot has already come forward to issue a negative response to the letter – that of anti-gay State Senator Ruben Diaz Sr: "I respect their position. I hope they respect mine."