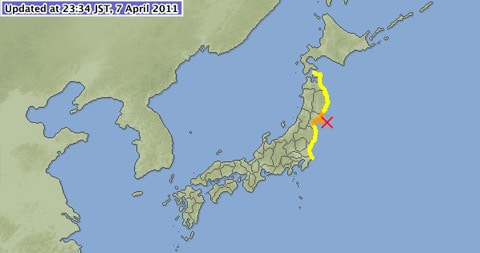 A 7.1 earthquake has struck near Miyagi prefecture, the same area struck by the  March 11 quake and tsunami. Tsunami warnings have been issued…
AP: "The Japan meteorological agency issued a tsunami warning for a wave of up to 6 feet. The warning was issued for a coastal area already torn apart by last month's tsunami, which is believed to have killed some 25,000 people and has sparked an ongoing crisis at a nuclear power plant. However, the Pacific Tsunami Center, operated by the United States, has not issued an oceanwide warning. The center said the Japanese coast could feel 'small effects, possibly destructive but in a small local area.'"
TEPCO, the agency monitoring the nuclear reactors, report no new damage so far, according to CNN.