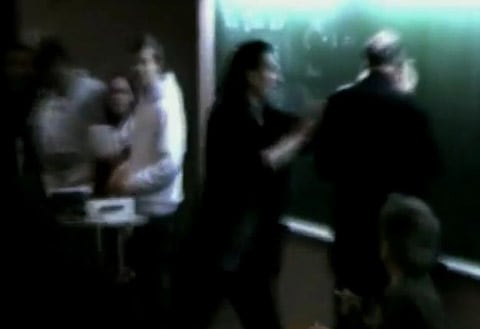 The head of Belgium's Roman Catholic Church, Andre-Joseph Leonard, was hit with cream pies several times on  Tuesday by activists. A clip of the attack was posted by 'The Glooper' who AFP reports has already successfully targeted French President Nicolas Sarkozy and billionaire Microsoft founder Bill Gates.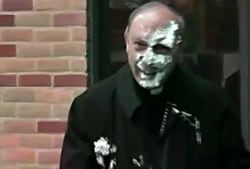 AFP adds: "It was filmed Tuesday during a speaking engagement at the Catholic University of Louvain-la-Neuve, near Brussels. It is the second time the archbishop has been targeted. Leonard enraged Belgium's gay community last year when he suggested AIDS stemmed from the wrath of God, labelling the disease 'a sort of intrinsic justice.'"
Leonard has also compared homosexuality to anorexia.
The notation on the YouTube posting suggested that the Archbishop's anti-gay views and views on abortion were being protested, as well as his views on AIDS.
Watch the video, AFTER THE JUMP…