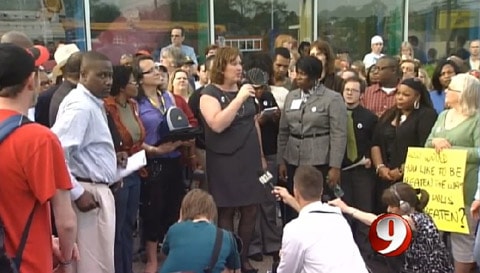 Hundreds turned out for a rally last night outside the Baltimore McDonald's where trans woman Chrissy Lee Polis was brutally beaten while some restaurant employees stood by and even filmed it.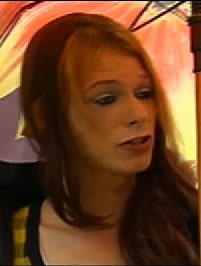 The Washington Blade has a report from the rally, which was attended by several politicians, and Polis' mother:
A crowd of about 300 spectators sang "We Shall Overcome," as politicians and activists denounced the beating that captured national media attention after it was recorded by a restaurant employee and posted to YouTube.
**
Several politicians in the crowd expressed surprise and gratitude for the strong turnout.
"This is truly an LGBT moment," said Mary Washington, a lesbian member of Maryland's House of Delegates from Baltimore City. "Our allies are here as well. I see this moment lasting and we will resume the fight to pass HB 235."
She was referring to a transgender non-discrimination bill that was killed by the Maryland Senate just a week prior to the beating. Baltimore City Council member Carl Stokes echoed those impressed by the large turnout.
Watch a news report from WUSA 9  containing footage from the rally and an interview with Vicky Thoms, the McDonald's employee who tried to help during the attack,
AFTER THE JUMP…