Mississippi Governor Haley Barbour announced yesterday he would not be seeking the Republican nomination for President: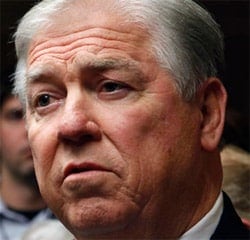 "I will not be a candidate for president next year," Mr. Barbour said in a statement. "This has been a difficult, personal decision, and I am very grateful to my family for their total support of my going forward, had that been what I decided."
For months, Mr. Barbour has been traveling to the early-voting states of Iowa, New Hampshire and South Carolina, testing his support among Republican activists. He was widely expected to enter the race this week, particularly among contributors and the party establishment, but he said that he was unsure about the long-term commitment.
Barbour's decision sent the field scrambling, and upped at least one potential candidate's chances, Politico notes:
If Indiana Gov. Mitch Daniels enters the race, Republicans say, his friendship with Barbour and his own long D.C. track record would make him the favorite to win over the class of political professionals who have proved so influential in past GOP presidential primaries.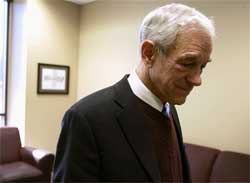 And Ron Paul is expected to announce his entrance into the race at a presser today:
Liberty PAC, Paul's political action committee, sent out a news release Monday that teases the 3:45 p.m. news conference at the Holiday Inn, 6111 Fleur Drive. The release states that Paul will "make an important announcement about his political organization."
That would precede the May 5 Fox News debate in South Carolina for prospective Republican presidential candidates. Paul has already accepted an invitation to the debate, but debate guidelines require each participant file as an exploratory candidate or a formal candidate by April 29.