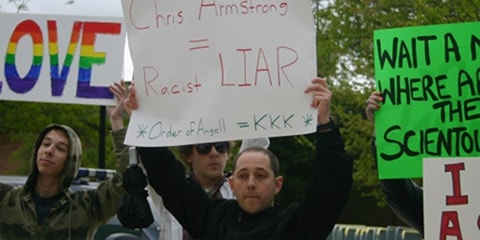 In early April I reported that University of Michigan President student body president Chris Armstrong was suing former Michigan assistant attorney general Andrew Shirvell for stalking and cyber-bullying Armstrong for months. Shirvell lost his job as a result of his actions.
Armstrong is seeking more than $25,000 in damages.
Said Armstrong's attorney: "This guy has behaved so irresponsibly, especially for an attorney. He's a rebel without a cause. At this point, it's not about the money. Mr. Shirvell has refused to retract any of his bizarre and untruthful points. We want to set the record straight."
Now Shirvell wants the case thrown out. The Detroit Free Press reports on a May 6 filing in which Shirvell asks the judge to dismiss Armstrong's lawsuit and claims he is the real victim:
The filing claims that Armstrong actually pursued a "course of action" against Shirvell "to make an example out of (me) in order to deter others from criticizing (Armstrong's) homosexual activist agenda." 
"Mr. Armstrong's lawsuit is politically motivated," Shirvell said in an e-mail. "For months, Mr. Armstrong has garnered publicity for himself and for his political agenda by trashing me in the media. The lawsuit filed on April 1st is nothing more than Mr. Armstrong's latest publicity stunt. It is entirely without merit and totally devoid of reality. Mr. Armstrong has suffered no damages. I am confident that the Court will ultimately throw-out Mr. Armstrong's baseless lawsuit and that my First Amendment rights will be upheld."
Shirvell's claims couldn't be further from the truth.