Gay-related rhetoric is common in environments defined by their masculinity. Sports, rap, construction, ranching and, of course, cutting hair (I'm only half kidding about the last one… There's this barber shop run by Ukranian Jews in Chelsea whose barbers do not realize I understand Hebrew). Men in these industries do not always use anti-gay slurs against real or perceived gays and lesbians; that is, calling someone a "fag" is rarely meant as an accurate assessment of someone's sexuality. Instead, its a word bandied about by straight men trying to prove their heterosexual bona fides and to establish dominance over one another. That's just what men do.
And, that is the problem. Calling someone "Jew" in the trade and business worlds used to be a common slur about the target's parsimony, lack of ethics and all around "otherness." Yet, we no longer tolerate such comments even at the margins of society. We still call our business adversaries cheap and underhanded, but we do not call them "Jews." A man's attack on his athletic adversaries will probably always revolve around weakness. So, we have to divorce gay-related rhetoric from weakness.
We need Kobe Bryant to film anti-bullying PSAs, we need athletes to come out, we need our brave men and women in uniform to come out and you and I need to prove that being gay is no more synonymous with weakness than being left-handed or having red hair.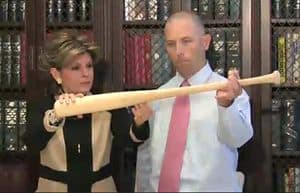 But, this is not a case where the growing reach of the First Amendment is at fault. Free speech rights may prevent the state from passing a law criminalizing Mr. Bryant's slur, but it would allow the state to proscribe Mr. McDowell's threatening speech and conduct with a baseball bat. It is, therefore, irrelevant to this context since public laws are not at issue. Even if the First Amendment allowed you to say whatever you want, a private employer could punish you for your conduct if it does not comport with the company's standards. In other words, the First Amendment may permit you to call someone a "fag," but it does not guarantee you a job when you say it to your boss.
Another federal law — Title VII — bans sexual harassment in the workplace. It allows employees who are victims of quid pro quo and hostile environment harassment to sue their co-workers and/or employers for harassment and doing nothing to stop the harassing conduct. At first blush, this law might seem applicable if Mr. McDowell used anti-gay sexual rhetoric against a player or member of the Atlanta Braves staff and the Braves and MLB did nothing to stop it. I am not so sure. While same-sex harassment is actionable under Title VII, gay-related rhetoric may be seen as part of the common give-and-take among men in sport. Title VII is not a civility code, and it should not be. But, that does not mean that MLB and the NBA cannot enforce their own codes of conduct.
The NBA and MLB have judged that anti-gay rhetoric does not belong in their games and the leagues can punish their employees as they see fit (in accordance with any relevant collective bargaining agreement). And while I believe that Mr. Bryant's and Mr. McDowell's misdirected anti-gay rhetoric is part of the common give-and-take among men in sports, we should strive for a world where it is not. And, to that end, the leagues have the right and responsibility to enforce civility among their players, fans and referees. In fact, the very ordinariness of the comments makes these private civility codes all the more important. Only when the leagues enforce these rules will professional athletes realize that anti-gay rhetoric is wrong, inappropriate and just unnecessary.