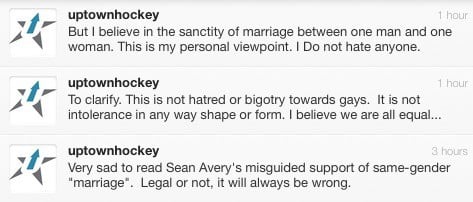 UPDATED BELOW
Uptown Sports Management, an Ontario, Canada-based agency which represents a number of NHL players including Andrew Brunette, Cody McCormick, Chris Neil, Mike Fisher and Carlo Colaiacovo, attacked New York Ranger forward Sean Avery for getting involved with the campaign for marriage equality in New York.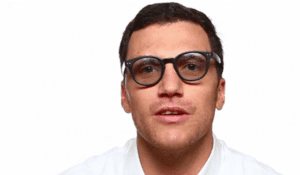 Avery recorded a video for New Yorkers for Marriage Equality which we posted over the weekend. You can watch it again, AFTER THE JUMP…
Wrote the agency in a tweet: "Very sad to read Sean Avery's misguided support of same-gender 'marriage'. Legal or not, it will always be wrong." The tweet was followed up by two more denying anti-gay bigotry, and saying, "This is my personal viewpoint. I Do not hate anyone."
According to CBS, Todd Reynolds, the firm's Vice President and son of the owner, is in charge of the agency's Twitter feed.
UPDATE: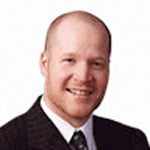 Reynolds spoke with ever join Cybulski & Company on TSN Radio 1050 and gave this statement:
"There's certainly a voice for the other side on this particular issue. I was merely responding to be the other voice. I believe in standing up for what you believe in. I'm passionate about what I believe in. And I believe in morality and I believe in right and wrong. I know many people with different view points for what is right and wrong.
"But I'm a little disappointed in some of the response. If you oppose a viewpoint, you're immediately targeted by some people as a hater, a bigot, intolerant, homophobic and many other terms. That's obviously not the case for people who know me. … I don't hate anyone. And I'm certainly not a bigot. But I believe in marriage between one man and one woman. It's a social debate that's raged on for quite some time. In Canada and the U.S. it's a hot-button topic right now. I guess maybe it was how I was raised. I believe in voicing your opinion and not being part of the silent majority. "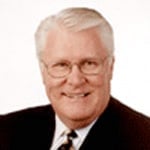 Don Reynolds, the agency president and Todd's father, gave some more obscene quotes to the National Post, saying he stands by his son's tweet, and then comparing same-sex marriage to bestiality:
"It's sad. I mean, my personal position is that I do not support gay marriage, and I think it's wrong, as well. It's not politically correct to, I guess, give your opinion about a thing like that. It's politically correct on the other side, for people to say, 'sure, I support gay marriage.' But the majority, I think, of Canadians would say that they don't agree with gay marriage – that man and woman were created to be married, not man and man or man and horse, you know?"
On the other hand, sports agents and hockey professionals are also coming out in support of Avery. Outsports has posted a few responses.
Paul Bissonnette, an NHL player for the Phoenix Coyotes, has chimed in as well.

Change.org has created a petition demanding Uptown Sports apologize.
(via buffalo74)