UPDATED
The Voice judge Blake Shelton, who is being called the show's break-out star by EW, unleashed a homophobic tweet last night:
Re-writing my fav Shania Twain song..
Any man that tries
Touching my behind
He's gonna be a beaten, bleedin', heaving kind of guy…
This comes after his distasteful Brokeback Mountain joke about Jake Gyllenhaal at the CMA Awards in April.
UPDATE: Shelton responds to the outcry over his tweet.

UPDATE II: GLAAD has called for an apology.
UPDATE III: Shelton responds again.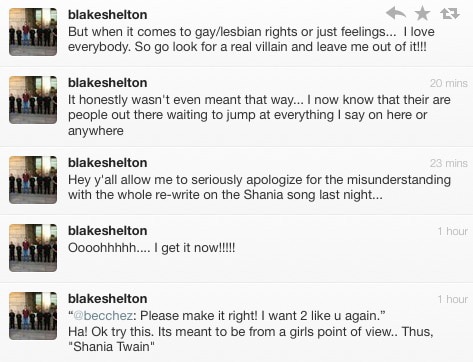 And finally:

So, I think Shelton probably will think a bit before he tweets from now on.