The concern that I expressed in my earlier post (below) that the AP had jumped the gun on news that the Uganda "kill the gays" bill was dropped from the parliament's agenda turns out to have been warranted.
Writes Jim Burroway at Box Turtle Bulletin: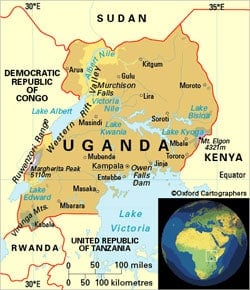 [UPDATE: 10:40 EDT: The AP report is in error. The Bill is on the agenda. Apparently, it was added sometime in the past few hours. When Warren Throckmorton posted his announcement that the bill was not on the agenda earlier this morning, the link to the Parliament's Order's paper was different. That link now goes to a blank page requiring a login. The new Order Paper is posted at a different URL. Despite the erroneous AP report that appears to cite a non-existent Parliament member, the bill is still scheduled for a vote.]
UPDATE II: Now the bill has been postponed until Friday.
EARLIER POST
Uganda's parliament appears to have dropped plans to debate a controversial anti-gay bill after global condemnation.
The anti-gay bill was first proposed in late 2009 but it wasn't debated until last Friday. The bill had been scheduled to be debated again on Wednesday but was dropped from parliament's updated schedule.
Here's the Ugandan parliament's order paper for Wednesday, which does not list the bill.
However, Warren Throckmorton writes:
(UPDATE: 12:50pm Kampala, 5/11) I just spoke with Ranny Ismail, spokeswoman for Parliament, who told me that the Anti-Homosexuality Bill is still in committee. The report on the bill is indeed complete but in their procedure, the bill is still considered in committee and is not on the agenda for business today. However, she said that Parliament could carry forward all unfinished business in all committees if a member makes a motion to do so and it passes. She says this has happened before. This information is in contrast to what committee chair Stephen Tashobya told me on several occasions, although I assume now that he was addressing the fate of the AHB specifically if a motion to continue is not made. Because she was unsure about the fate of such a motion, she said she would not know the final outcome until about 7pm in Kampala. 
Hopefully the AP hasn't jumped the gun on this news before we're out of the woods.
We'll see.