If you are in D.C. you may want to swing by the Library of Congress, as a few papers from the collection of gay rights pioneer Frank Kameny have gone on display there, the AP reports: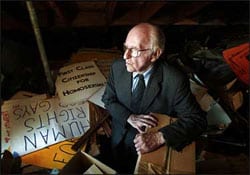 The library is showing Kameny's 1961 petition to the U.S. Supreme Court, contesting his firing. Though it was denied, Kameny's was the first petition to the high court for a violation of civil rights based on sexual orientation.
The library also is displaying a 1966 letter from the head of the U.S. Civil Service Commission justifying the firing based on the "revulsion of other employees." It was introduced last year as evidence in the battle over gay rights in California.
Also in the Library's possession are papers related to the American Psychiatric Association's 1973 removal of homosexuality from its list of mental disorders and the landmark 1974 federal decision to grant an openly gay man a Pentagon security clearance, as well as materials Kameny used in marches and protests from 1965–1969.
No word on how much of it is on display.
(image wapo)