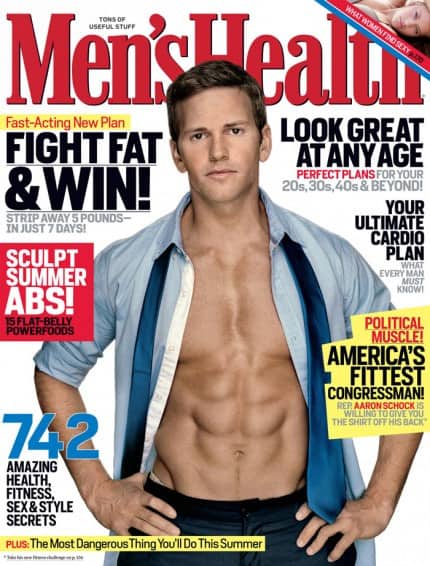 Republican Congressman Aaron Schock (R-IL) is baring his abs on the cover of Men's Health.
The full "Ripped Representative", as MH refers to him, AFTER THE JUMP…
Schock, 29, a freshman congressman from Peoria, Ill., is teaming up with the magazine for the Fit For Life Summer Challenge, and says you have to practice what you preach when it comes to proper diet and exercise. 
"If you want to start talking about healthy lifestyles and staying in shape, then you yourself should do your best to try to be a model, an example to people you're trying to convince to do the same," he says. 
Schock, who is single and a conservative Baptist, says he was headed down the wrong path himself at one point. "In college I could feel my body changing, and I knew that if I didn't make some changes, I was going to go in the wrong direction," he says.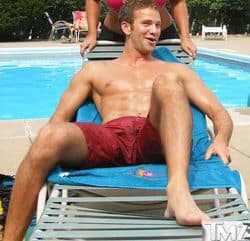 It's not the first time the public has seen Schock's abs. TMZ posted a much-discussed poolside beefcake photo (right) back in 2009.
Our last visit with Schock (R-IL) was in February when he polished his anti-gay credentials and spoke out against Obama's announcement regarding DOMA.
Schock is a 'confirmed bachelor' who is "not" gay though he does occasionally express shame at his flamboyant wardrobe choices and has said that he hopes his chiseled abs will cause people to pause and listen to what he has to say on CNN.
The full "Ripped Representative", as MH refers to him, AFTER THE JUMP…
Previously…
Rep. Aaron Schock 'Burned the Belt' That Made Him Look Gay [tr]
Congressman Aaron Schock Not Gay, Details Reconfirms… [tr]
CNN Turns the Focus to GOP Congressman Aaron Schock's Abs [tr]