New York Governor Andrew Cuomo won't risk a marriage equality vote unless the votes are there in the Senate, he told reporters today, following the introduction of a same-sex marriage bill by Daniel O'Donnell in the Assembly yesterday.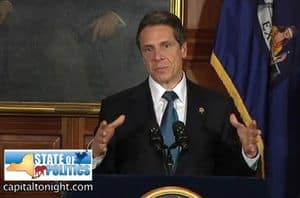 Said Cuomo, according to Capital Tonight:
"This has never been about, on marriage equality, a vote in the Assembly primarily. the assembly has passed it before. People expect it will pass again. The question is what's going to happen in the Senate. The discussions that I've had with the collective group that is working on this in a unified way is we want to pass a bill. we don't want to bring a bill up in the Senate that will fail, right? We don't want to have an instant replay of last year. It's not about having a vote for a sake of a vote. It's about if it's going to pass. and the conversations we're having now will education as to whether we'll bring the bill to a vote."
In February, Cuomo told a group he was speaking to at Hofstra University that "We'll be working very hard to pass it." Shortly thereafter, a group of LGBT advocates held closed-door meetings with the governor.
In May, Cuomo told reporters: "I think the best way I can get legislation to pass is by going to communities across the state and making my case to the people." The Times-Union also reported that a robo-call paid for by The Democratic State Committee in support of marriage equality had been recorded in which Cuomo voiced support for passage of the measure.
To win in the Senate, advocates need to swing the votes of a handful of Republicans who voted against the bill last time.
As I mentioned yesterday, the National Organization for Marriage (NOM) has launched a $1.5 million anti-gay campaign in the state which includes a TV ad and a pledge to actively oppose lawmakers who support the bill.