A bill passed by the Senate Judiciary Committee last week that would place a voter initiative to ban same-sex marriage in the state on next year's ballot was approved this morning by the Senate Rules Committee, advancing the bill to the full Senate for a vote., the Minnesota Independent reports: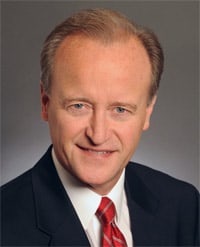 During brief testimony, DFLers on the committee raised concerns about rushing the passage of such a contentious measure this year and about its possible unintended consequences for same-sex couples.
"This isn't something that we have to do this year," Sen. Linda Berglin, DFL-Minneapolis, said. "We don't have a vote until next year. This is a very controversial constitutional amendment, and we have a limited amount of time before the session is going to be over."
Sen. Warren Limmer, R-Maple Grove (pictured), said he was concerned that gay marriage might become legal soon.
"There is a reason; as you know the definition of marriage is a very personal one," he said. "There is a court case that is pending regarding the definition of marriage. They were dismissed in court and they have avowed publicly that they are going to a higher court."
He added, "That creates a sense of expediency for the Legislature to act."
In related news, earlier this week Pennsylvania Rep. Daryl Metcalfe introduced a bill in that state to allow voters to change the Constitution to define marriage as between a man and a woman.
"The institution of traditional marriage has never been under greater attack," said Metcalfe.  "This not only includes the special interests who want to permanently redefine marriage, but unfortunately the executive branch and the federal Department of Justice who have blatantly and recklessly refused to uphold and defend its Constitutionality. Once again, it falls to the responsibility of state lawmakers to restore the rule of law and carry out the will of the people."