Henry Velandia and Josh Vandiver, a binational same-sex married couple from New Jersey whose case has been in the spotlight in recent days, can stay together. A judge has temporarily halted deportation proceedings, the AP reports: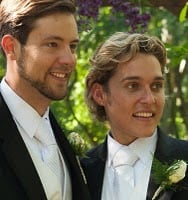 Judge Alberto Riefkohl granted an adjournment of the case Friday in a Newark immigration court.
At issue is who can be considered a spouse under federal law.
Velandia is a 27-year-old professional salsa dancer and Vandiver is a 29-year-old graduate student at Princeton University. They were married last year in Connecticut, where same-sex marriage is legal.
According to tweets from activist group GetEQUAL, deportation proceedings have been postponed until December.
The judge's order comes a day after Attorney General Eric Holder vacated another immigration case based on questions over DOMA.
More form Chris Geidner at MetroWeekly…
Of the reasons, Soloway says, "The first reason that he granted an adjournment was that the I-130 petition filed by Josh for Henry was still pending and he felt that it was appropriate to let the U.S. CIS to adjudicate that petition, and that it would be inappropriate to move forward until that happened."
The second reason the judge cited, Soloway says, was Holder's May 5 decision to vacate a decision by the Board of Immigration Appeals related to the application of Paul Wilson Dorman, in which the BIA had applied Section 3 of the Defense of Marriage Act to his pending case.
"He also cited the potential that he saw from the Matter of Dorman decision yesterday, which he reviewed it in court and discussed it," Soloways says.
Rep. Rush Holt (D-NJ) sent a letter last month to DHS Secretary Janet Napolitano urging her to halt the deportation of Velandia and other married same-sex binational partners in similar situations.