Moscow officials marked the International Day Against Homophobia and Transphobia today by banning a Gay Pride rally scheduled for May 28, UK Gay News reports: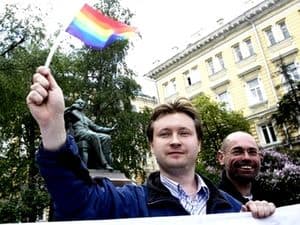 The reasons given by the deputy mayor of Moscow, Ludmila Shvetsova, is because of "the impossibility to provide security" – and a high number of letters of protests received by the City Hall against this event.
"The reasons for banning the Moscow Pride this year are exactly the same reasons used in the past years – and for which the European Court of Human Rights judged against Russia for violating the European Convention on Human Rights, Pride chief organiser Nikolai Alekseev.
 "Russia has decided to mark the Day Against Homophobia by showing, once again, its homophobic policy towards its LGBT citizens.
He revealed that an application would now be made directly to the Russian President.
Organizers plan to hold the rally anyway.
Officials have banned gay-related rallies since 2006, and a parade or march has never been authorized. In April, it was reported that officials had, for the first time, approved such a rally, but that appears to not be the case.