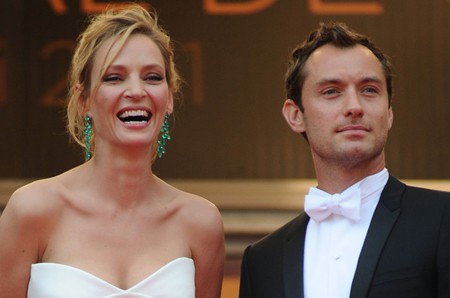 GATTACA Reunion! Genetically perfect humans Uma & Jude doin' Cannes jury duty.


NATHANIEL ROGERS
…would live in the movie theater but for the poor internet reception. He blogs daily at the Film Experience. Follow him on Twitter @nathanielr.
 
NOW PLAYING
Last week Thor's circular hammer started swinging the tornado (thornado!) that is summer movie season. This weekend Kristin Wiig and Rose Byrne play BRIDESMAIDS for Maya Rudolph (we're hearing good things) while rough and tumble hotties Paul Bettany and Karl Urban battle in the apocalyptic vampire actioner PRIEST. In limited release Joseph Gordon-Levitt starts fires as underwear clad eccentric HESHER, Will Ferrell says EVERYTHING MUST GO and a young girl takes that GO FOR IT mantra seriously as all young movie dancers from 42nd Street (1933) through Step Up 3D (2010) have before her.
CANNES
Meanwhile, across the pond, the 64th annual CANNES FILM FESTIVAL has just kicked off. Faye Dunaway is this year's Poster Girl, albeit Faye Dunaway circa 1970.
Do you prefer Faye by way of Mommie Dearest, Bonnie & Clyde, Supergirl or Network? 
MORE AFTER THE JUMP…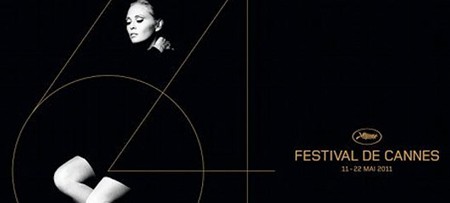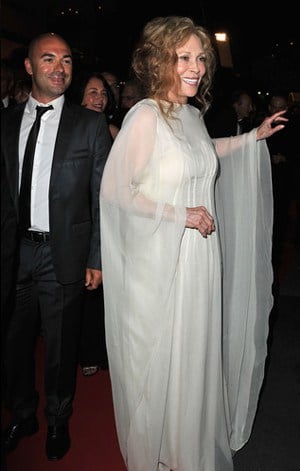 I'm a Bonnie & Clyde man, generally speaking, but Network is her best work. As for modern day Faye, she's promoting a "lost" 1970 film Puzzle of a Downfall Child at the festival and it's also making its way around to specialty theaters.
Cannes has only just begun but so far the new Woody Allen Midnight in Paris is said to be a return to form. We'll reserve judgment for now; someone always says that at the premiere of the annual Woody and someone else always vehemently disagrees.
The film adaptation of the best seller We Need to Talk About Kevin, is getting less divisive reception: it's straight up raves. The drama is about a troubled mother (the incomparable Tilda Swinton) with a sociopathic teenage killer for a child (Ezra Miller). Reviews for Gus Van Sant's Restless, starring Mia Wasikowska are not as strong across the board but it has devout fans. And, Finding Forrester excepted, Gus Van Sant's movies are always worth checking out. Yes even Psycho (1998). Hey, if you don't take wild risks on occassion, you're going to stagnate as an artist.
Many more major films have yet to emerge including Pedro Almodóvar's The Skin I Live In.  Here's a vivid creepy tease.
In their five mostly excellent previous films together Spain's most celebrated director has put Antonio Banderas into all sorts of compromising positions involving torrid gay affairs (the unmissable Law of Desire), telepathic voyeurism (the disturbing Matador), neurotic farces (the breakthrough hit Women on the Verge of a Nervous Breakdown), nymphomaniacs and terrorists (Labyrinth of Passion), and sexually explicit kidnapping romances (Tie Me Up! Tie Me Down!). This new horrific rape thriller about a vengeful plastic surgeon (The Skin I Live In) sounds right up their mutually provocative alley. Pedro gave Penélope Cruz, his current muse, a break this time out for the long-awaited reunion with his only real male muse. Elena Anaya (the comatose beauty in Pedro's Oscar winning Talk to Her) and Marisa Paredes (the stage diva in his other Oscar winner All About My Mother) have the principle female roles this time.
And of course, it isn't Cannes without and endless fashion parade.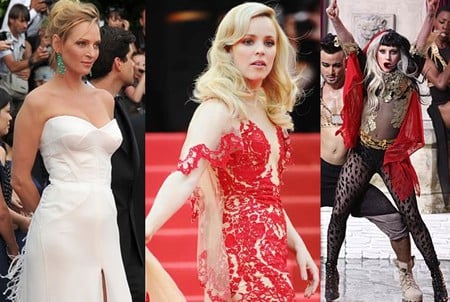 Big name celebs, fashion icons. world great actresses, and international beauties are already throwing down guantlets for one another [Uma: "White Versace Bam!"; Rachel McAdams: "No, Marchesa girl"; Lady Gaga: "Whatever. You're looking at me now."]. They'll be doing it for the next two weeks. The fashion blogs are already playing along and kvetching.