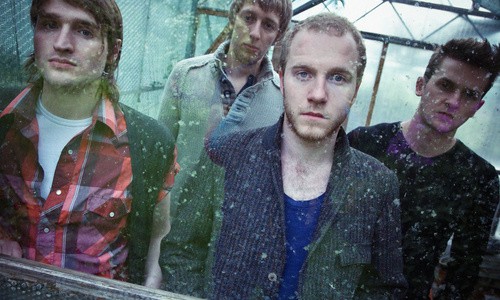 Norman Brannon is a pop critic, musician, and author based in New York City. He presents a weekly music update here on Towleroad and writes regularly at Nervous Acid.  
Follow Norman on Twitter at @nervousacid.
EXTENDED PLAY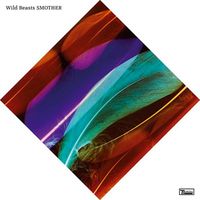 Wild Beasts — Smother (Domino)
Introducing your new record by citing later–era Talk Talk as an influence — like Wild Beasts did earlier this year— is a somewhat tenuous set-up: Albums like Spirit of Eden and Laughing Stock were nonpareil for their time; it can be safe to assert that Talk Talk was the only band from the 1980s to follow up three well-received synthpop records with two albums of free-jazz inspired orchestral ambient music — and artistically succeed. The parallels in this case, then, are more psychic than anything: Smother is an album that revels in creating environments and moods, and — like Talk Talk — singers Hayden Thorpe and Tom Fleming find meaning in the space between the notes, their androgynous falsettos becoming as much a part of the tapestry as the band's deliberately sparse and uneasy arrangements. But while Wild Beasts are certainly easy on the ears, Smother is not quite easy listening — and in that sense, the band has adopted the most crucial ethos that ultimately validates the preemptive comparison: Beauty teems from this elegant tension, and you are unlikely to hear anything else like it this year.
START WITH: "Bed Of Nails" / "Loop The Loop" / "Albatross"
THE DISPATCH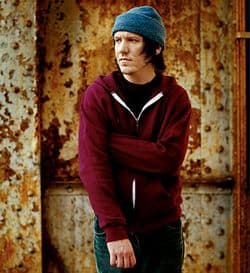 The first documentary film about the life of the late Elliott Smith screened in Los Angeles over the weekend, and its coup is the participation of Smith's last girlfriend, Jennifer Chiba, who is speaking about him for the first time since 2003, when the singer-songwriter died of a self-inflicted knife wound. Despite the cries of conspiracists who believe Chiba actually killed Smith — and the objections to her participation by Elliott's family — director Gil Reyes insists her contribution is crucial to the film: "Here you can actually look in her eyes and determine for yourself if she's telling the truth or not."

 Following a month where we lost Poly Styrene and TV on the Radio's Gerard Smith to cancer, it has been announced that Decemberists keyboard player Jenny Conlee has been diagnosed with breast cancer. "There are still a few unknowns out there concerning my cancer," she writes in a message posted to the band's site, "but I am thinking positive and hope to be back on the road soon."

 Adele: "If Rihanna wanted me, I'd do it with her. She's hot."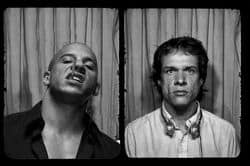 Before he was Vin Diesel, he was Mark Sinclair — an aspiring rapper and breakdancer in New York City. In itself, that's not too bizarre! But this week, the story got stranger: In 1986, Captain Beefheart collaborator Gary Lucas discovered the young Sinclair rapping on a West Village street and teamed him up with legendary disco and experimental rock musician Arthur Russell for an aborted recording session bankrolled by Rough Trade Records. Now, thanks to Lucas, there is MP3 evidence.

 Killers drummer Ronnie Vannucci has signed to Epitaph Records for his forthcoming debut solo album under the Big Talk pseudonym. Lead single "Getaways," gets a digital release today.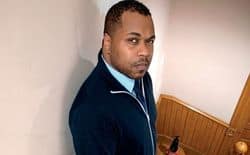 After 25 years of performing and producing, legendary Chicago house DJ Derrick Carter finally gets his due in the gay press. The Advocate ran a feature interview with Carter this week, where the artist explained his under-the-radar status: "[These days], a lot of gay audiences want to hear pop remixes. That's fine if they want to hear that, but that's not what I do."

 Nomi Ruiz made her mark as a featured vocalist with Hercules & Love Affair; today, she is prepping her debut album with Jessica 6 for the esteemed Peacefrog label. Our first taste of See The Light is "Prisoner of Love" — a nu-disco, proto-house duet between Ruiz and Antony Hegarty. The track is currently available as a free download HERE.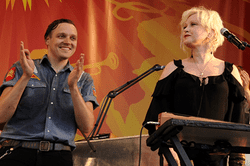 Arcade Fire reprised their cover of Cyndi Lauper's "Girls Just Wanna Have Fun" at this weekend's New Orleans Jazz Fest, but this time, Lauper came out to own it. She also stuck around to add vocals and lapsteel for a gorgeous version of Arcade Fire's "Sprawl II."

 Robyn is keeping busy this week: In addition to releasing the first remix from her upcoming single package for "Call Your Girlfriend" — a hyper dubstep interpretation by former drum-n-bass producer Feed Me — the singer also appears on the latest single by M.I.A. protege Rye Rye for Diplo's Mad Decent label. "Never Will Be Mine" features an extended rerecorded chorus from Robyn's 2005 single "Be Mine."
COMING OUT: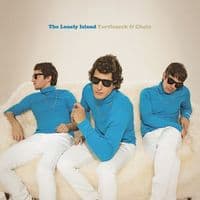 In an interview with the New York Times over the weekend The Lonely Island described themselves as "Real Beats, Fake MCs," but that's only half-true — an album like Turtlenecks & Chains simply would not work if these guys couldn't actually rap.  The "real beats" help, too: "Shy Ronnie 2: Ronnie & Clyde," for example, could have been a legitimate radio single if Rihanna wasn't singing about "boner alerts." Unfortunately, the album lands on a flat note with "No Homo" — a well-intentioned skewering of the ridiculous hip-hop disclaimer that devolves into I Now Pronounce You Chuck & Larry territory. It's not that such a song couldn't be funny; it's more that it just isn't.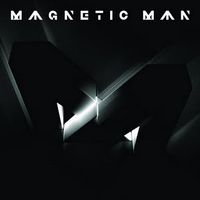 The production trio of Magnetic Man — Benga, Skream, and Artwork — are probably best known at this point for introducing Katy B to the world, but their self-titled full-length artist album tells a more varied story: Dubstep may take its centerstage, but notes of drum-n-bass, UK garage, and even commercial pop add a more complex sense of dimension to the record. There's also a payoff at the end: Hearing John Legend's vibrato over a near–industrial dubstep track is more than vaguely pleasurable.
If there's anything disconcerting about Move Like This — the first new studio album from the Cars since 1987 — it's just how short these songs makes the last 24 years feel. Hearing "Keep On Knocking" for the first time is like taking "My Best Friend's Girl" out of cryogenics; "Free" does something similar for "Just What I Needed." Whether or not this reads as a good thing or a regressive misstep probably depends on how hard you've clutched onto your copy of Candy-O all these years.
Also out today: Gang Gang Dance — Eye Contact (4AD), Okkervil River — I Am Very Far (Jagjaguwar), Joan Of Arc — Life Like (Polyvinyl), Gus Gus — Arabian Horse (Kompakt), The Sea & Cake — The Moonlight Butterfly (Thrill Jockey)
SOUND & VISION: 
Gold Panda — "Marriage" (Star Slinger Remix)
I originally planned to include Star Slinger in last week's unsigned artists rundown, but I'm glad I held off: Check out the UK producer's euphoric take on Gold Panda's "Marriage" — from last year's excellent Lucky Shiner — and then download more of his hip-hop inspired laptop techno, some of it free, from the official Star Slinger Bandcamp page.
Lykke Li — "Sadness is a Blessing"
The third official single from Lykke Li's Wounded Rhymes finally gets the suitably upsetting video that a song with lyrics like "Sadness is my boyfriend / Oh, sadness I'm your girl" totally deserves! In addition to playing the foil for Li's unbearable sadness in this clip, Stellan Skarsgård is also currently starring in Thor. Which makes very little sense as I write it.
Cold Cave — "Villains of the Moon"
Earlier this year, New York's Cold Cave released Cherish the Light Years, their second album for Matador, to critical acclaim. Lead single "Villains of the Moon" — which gets a video this week — moves further away from the experimental leanings of the band's debut and shifts into a tense, gothic pop that would make a "Cuts You Up"–era Peter Murphy super proud.
Austra — "Lose It" 
Immediate comparisons have been made to Florence + the Machine, and I'm not gonna lie: Austra's Katie Stelmanis shares some of Florence's eccentric art-pop tendencies. But stick it out with "Lose It" and you'll find something increasingly unique about the way Stelmanis' opera-trained vocal affectations elegantly float over this track's icy new wave exterior. It's a bona fide grower.