Seven years after being suspended under the military's "Don't Ask, Don't Tell" policy, Air Force Major Margaret Witt has settled her case with the Pentagon, the Seattle Post Intelligencer reports: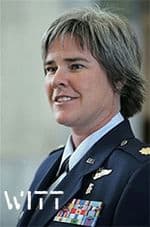 Per the agreement, Witt will retire with full benefits and her discharge will be removed from her record. The settlement ends a legal fight that began Witt's suspension in 2004 and continued after her discharge in 2006.
During a tearful announcement at the Seattle office of the American Civil Liberties Union, Witt thanked her family, parents and fellow service members who stood by her during a trial last year that ended with a federal judge ruling that Witt's dismissal served no military benefit.
Last November, the Department of Justice appealed a September ruling ordering the Air Force to reinstate Witt, a decorated flight.
Witt said she would be retiring to focus on her family and other things.
Said Witt: "I am proud to have played a role in bringing about the repeal of 'Don't Ask, Don't Tell.' I am so pleased that the tens of thousands of lesbians and gays who have served their country honorably will be able to serve openly…For the past seven years, I have been fighting for my rights and the rights of other lesbians and gays in the military. I wish I could have spent that time serving with my peers. Now, with the lawsuit completed, I'm ready to start a new chapter in my life."