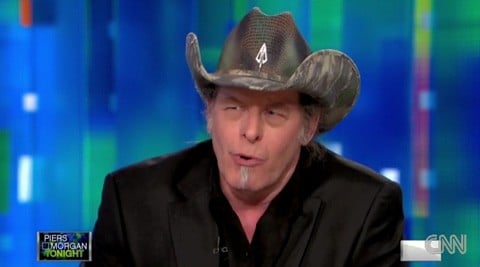 Piers Morgan talked to rocker Ted Nugent about gay sex last night.
"I'm repulsed at the concept of man-on-man sex, I think it's against nature. I think it's strange as hell, but if that's what you are I love ya… I'm not going to judge another's morals…I say live and let live. Gay? Go nuts. Martians? Cool. ..Ultimately all that stuff is inconsequential for the spirit of an individual…I have friends that are gay."
Nugent was in the news recently for a Washington Times article ripping the NBA for fining Kobe Bryant over his anti-gay slur.
Said Nugent in the article: "To be exact, Mr. Bryant committed this egregious verbal foul because he used a word demeaning to homosexuals, the most protected class of people in America….If the NBA had any true gay convictions, the NBA should host a Homosexual Night. During halftime, the homosexuals could come down on the court, hold hands and prance around the court to music by the Village People. The NBA could then give each homosexual a pink basketball as a symbol of solidarity."
Watch Nugent on Piers Morgan, AFTER THE JUMP…