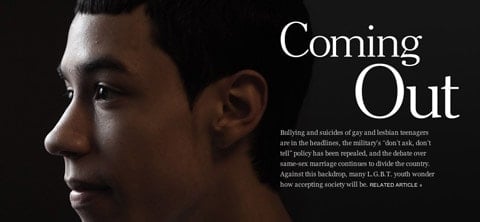 Steve mentioned this in his round-up on Saturday, but the NYT interactive "Coming Out" feature is now live.
The New York Times embarked on the project "Coming Out" as an effort to better understand this generation's realities and expectations, and to give teenagers their own voice in the conversation.
The youths who participated were in different phases of coming out: some had come out only to themselves, some to people in certain realms of their lives, some to only one trusted friend or family member. Some had come out to their family or community, and then, realizing they lacked the support they needed, rescinded the declaration — and came out again a couple of years later. Others spoke of hating themselves in the process of accepting who they are.
Check it out for a story today from 19-year-old John Albuquerque of the Bronx, and 17-year-old Thomas Miller from Mandeville, LA.