Obama's successes with "Don't Ask, Don't Tell" and his recent decision to reject portions of DOMA "and…smaller steps, like gay partner hospital visits and hate crimes legislation, concrete and important gestures that simply weren't made during the Bush administration" have reversed gay and lesbian disillusionment with President Obama, Politico's Ben Smith and Maggie Haberman write.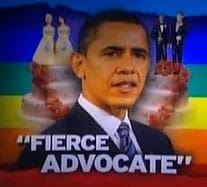 This, combined with a fundraising apparatus which includes several key gay appointees, places him in a powerful position to look to this community for money as other segments of his constituency grow disillusioned.
"He's coming back up in the estimation of the gay community pretty rapidly, and I think justifiably," said Ethan Geto, a New York lobbyist and key figure in Dean's gay fundraising, who said many gay supporters had hoped "Don't Ask" would be repealed during the president's first year in office. "When things didn't happen in (that) time frame and on the track that Obama had held out hope for, people got very disillusioned," said Geto. "This was the time to strike."
They write: "Gay donors, though, have only intensified their support, and are expected to participate in unprecedented numbers in a "LGBT Gala" DNC fundraiser scheduled for June 23 in New York."
Gay donors fuel Obama's 2012 campaign [politico]