After 30 years, San Francisco's Eagle Tavern has closed, the Examiner reports: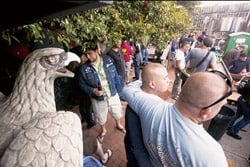 There was a time when many American cities had "Eagle" bars, a sort of label for gay-friendly. A few remain, including one in Dallas, where owner Mark Frazier contemplated buying the San Francisco outpost from its two owners, John Gardiner and Joe Banks.
But negotiations with the building's landlord faltered after rent was increased by 20 percent, and Frazier backed out. Bar manager Ron Hennis also expressed interest in ownership but declined requests for an interview and said in a Facebook message that he won't discuss ongoing negotiations.
San Francisco Supervisors Jane Kim, Scott Wiener, and David Campos sent a letter to San Francisco police in mid-April that highlights the cultural importance of the Eagle and calls for the department to "closely scrutinize" any liquor license transfer that changes the business.
There appears to be some hope that the iconic bar will reopen, but this is it for now.