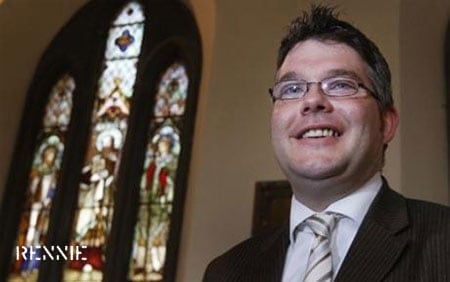 Back in 2009, shortly after the Church of Scotland voted 326-267 to support the appointment of openly gay minister Rev. Scott Rennie, the body took another vote, declaring a two-year moratorium on allowing gay clergy.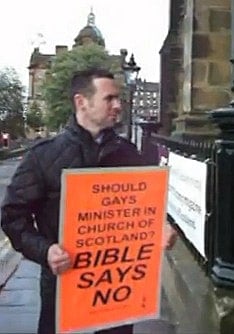 Yesterday, the body voted to lift that moratorium and welcome openly gay clergy into the church, the Guardian reports:
The church's general assembly, its law-making body, voted on Monday to lift that moratorium, officially officially allowing gay ministers to take on parishes for the first time since its formation 450 years ago.
The general assembly also allowed serving gay and lesbian ministers who have kept their sexuality private to openly declare their sexuality – a proposal bitterly resisted by evangelical and conservative ministers.
In one of the final votes, the general assembly chose by a small majority to lift a parallel ban on ordaining and training people who are in same-sex relationships, and gay and lesbians in civil partnerships. It called for a new report by 2013 on both proposals and on allowing ministers to bless gay and lesbian relationships.
The vote was 351-294 to lift the moratorium, the Daily Record adds:
At the start of the debate, newly appointed Moderator the Rev David Abbot said: "It is no exaggeration to say that it is not just the eyes of the Church that are on us today but the eyes of the world."
A report on the issue said the Church were "divided" by the issue of ordaining people in same-sex relationships.
The Very Rev Dr Findlay Macdonald supported the move to lift the ban.
He said: "We affirm the word of God but we must also be open to new directions."
Was there protest? A video from the Zion Baptist Church, AFTER THE JUMP…