Two gay men in Portland, Oregon, Brad Forkner and Christopher Rosevear, were attacked in a bias-related assault while walking across the Hawthorne bridge. The men were holding hands, according to The Oregonian: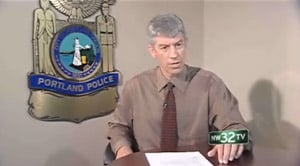 As they neared the pathway down to the Esplanade, Forkner felt someone push him, knocking him against a railing. Then, he said, fists.  He pulled out a cell phone and called 911 as the attackers hit Rosevear a few more times, Forkner said. They then ran off. 
Forkner said he couldn't tell what the attackers were saying. He didn't hear clearly anti-gay epithets. They were yelling, I don't know what, he said, adding that they may have been speaking another language. So much was happening and I couldn't catch onto what was happening. 
There were witnesses to the attack but they did not act. Rosevear received stitches at the hospital. The Q Center, an LGBT community group in Portland, said they are starting patrols of the area.
Watch KGW's report on the attacks, AFTER THE JUMP…