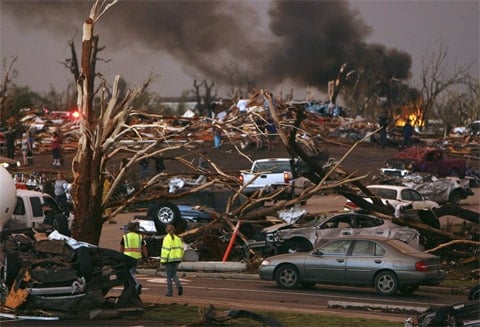 At least 89 are confirmed dead in a devastating tornado that ripped through Joplin, Missouri on Sunday, the AP reports:
City manager Mark Rohr announced the number of known dead at a pre-dawn news conference outside the wreckage of a hospital that took a direct hit from Sunday's storm. Rohr said the twister cut a path nearly six miles long and more than a half-mile wide through the center of town.
Much of the city's south side was leveled, with churches, schools, businesses and homes reduced to ruins.
Fire chief Mitch Randles estimated that 25 to 30 percent of the city was damaged, and said his own home was among the buildings destroyed as the twister swept through this city of about 50,000 people some 160 miles south of Kansas City. "It cut the city in half," Randles said.
A set of heartbreaking, unreal videos including one shot from within the storm, 
AFTER THE JUMP….
Here's some radar from the Weather Channel: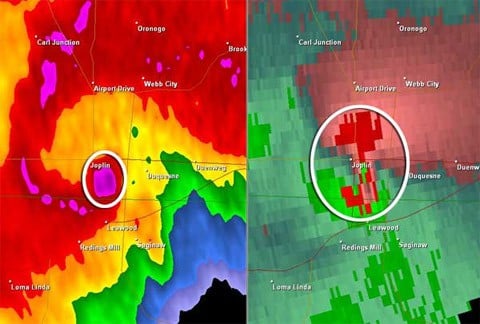 The high-resolution radar image below shows the destructive tornado which moved through Joplin, Mo. It shows a well-defined hook echo with the lavender tornado debris ball (circled area on left image) at the base of the hook. A debris ball is the radar seeing actual debris suspended in the air by the tornado.
According to Dr. Forbes, the lavender debris signature, which marks the tornado, is just over a mile wide and extends with a tilt toward the north upward to about 18,000 feet. This indicates that substantial debris was being tossed at least that high.
Our thoughts go out to everyone affected by this deadly storm.
A set of heartbreaking, unreal videos including one shot from within the storm,
AFTER THE JUMP….
This clip was taken from inside a Fastrip convenience store. No visuals are necessary to understand what these people were going through.