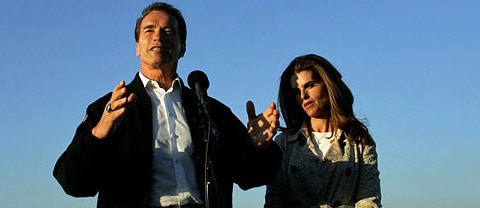 The reason behind Arnold Schwarzenegger and Maria Shriver's separation has been revealed by the L.A. Times. Shriver left after learning he had a child with a longtime member of their household staff more than 10 years ago:
"After leaving the governor's office I told my wife about this event, which occurred over a decade ago," Schwarzenegger said Monday night in a statement issued to The Times in response to questions. "I understand and deserve the feelings of anger and disappointment among my friends and family. There are no excuses and I take full responsibility for the hurt I have caused. I have apologized to Maria, my children and my family. I am truly sorry.
"I ask that the media respect my wife and children through this extremely difficult time," the statement concluded. "While I deserve your attention and criticism, my family does not. "
A spokesman for the former first lady said she had no comment.
The staffer worked for the family for more than 20 years, retiring early this year.
While in office as California governor, Schwarzenegger vetoed marriage equality bills twice — once in 2005 and again in 2007 — while he disrespected his own marriage.
Watch the AP report, AFTER THE JUMP…