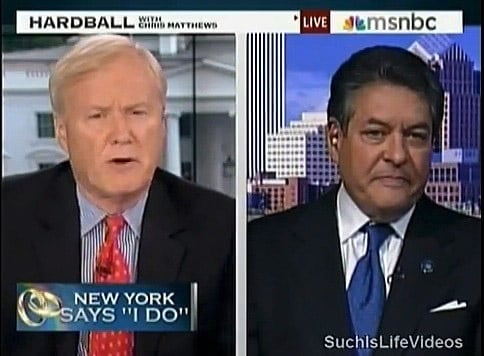 New York State Senator James Alesi, who was the first Republican to announce his support of New York's marriage equality bill, talks about why he voted for marriage equality and how he feels about the Republican party platform and equality.
Says Alesi: "We have to make this an opportunity for America to be what America was designed to be and that is the freest land in the world."
Chris Matthews also talks to New York magazine's John Heilemann about Alesi's vote and the potential for backlash.
Watch, AFTER THE JUMP…
In related news, Alesi told Sam Stein that Obama is "passing the ball" in not taking a stronger position:
"I understand that constitutionally the president is right, because it's a states' rights issue, otherwise New York wouldn't have been able to pass this. But there's nothing wrong with the most powerful person in the world espousing a viewpoint."