Two Denver women have held Nepal's first lesbian wedding, the AP reports: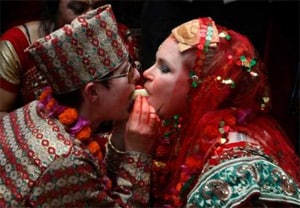 Courtney Mitchell, 41, and Sarah Welton, 48, from Denver, Colorado, celebrated in a Hindu Nepalese tradition at the Dakshinkali temple south of Katmandu, the capital of the Himalayan nation. Local gay rights activists and supporters cheered the ceremony attended by their close friends.
Nepal Parliament member Sunilbabu Pant, a gay rights activist, said it was the first public wedding of a lesbian couple in the mostly conservative nation.
The banana sharing (photo) is reportedly part of Hindu Nepalese tradition. More here.
Mitchell is a college professor and Welton a lawyer. Sanjay Shah, 42, a Briton from Leicester, UK and an Indian man who did not want to be identified, held Nepal's first gay wedding in August of last year.