The New York Senate has still not decided if and when it will vote on a marriage equality bill.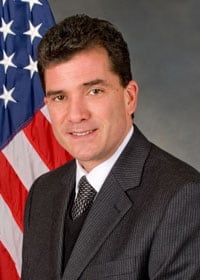 Another NY Senator "on the fence" over the marriage equality vote is Mark Grisanti of Buffalo but he is being threatened and pressured by Conservative Party chairman Ralph Lorigo, the Buffalo News reports:
Grisanti, who barely won election in 2010 in an overwhelmingly Democratic district, could face an uphill battle again in 2012 depending on how district lines are reapportioned. Winning the top minor-party line on the ballot could be crucial.
But Lorigo said the line could be in jeopardy if Grisanti votes for the bill to allow same-sex marriage.
"This is about a small and militant portion of gays and lesbians who want to call it marriage," Lorigo said, reiterating his support for the concept of civil unions. "But I have told Mark: 'If you do it, I don't know if I can help you in the future.' "
Grisanti said late Thursday that politics will not guide his decision. "My vote will not be based on anything political and whether I keep or lose an endorsement," he said, adding that he remains undecided.
New Yorkers, it is still vitally important to keep calling Senators particularly the ones on this list. Today is pivotal.
Lady Gaga targeted Grisanti in a Twitter blast to her more than 10 million followers yesterday, but we should keep the pressure on.
Meanwhile, Governor Andrew Cuomo is still looking for that one vote…
More here from the NYT…
Several Republican senators in New York are urging Gov. Andrew M. Cuomo to consider changing his proposed same-sex marriage bill to better protect religious institutions, addressing a concern that has emerged as one of the bill's chief obstacles as the legislative session comes to an end…
Mr. Cuomo's handling of the concerns will determine the fate of the measure, the Republicans said, which has been endorsed by 31 of the 62 members of the State Senate and cannot pass unless at least one more Republican lawmaker signs on. The legislative session ends on Monday.