Gay Israeli video blog exposed as hoax.

Could New York's marriage equality strategy work in Maryland? Some say yes.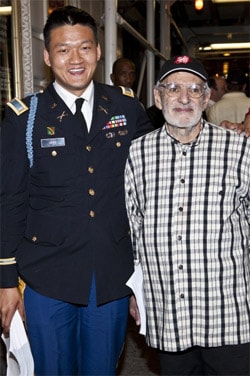 Lt. Dan Choi joins Larry Kramer handing out information on the HIV/AIDS epidemic outside The Normal Heart on Broadway.

VIDEO: Cat busted barking like a dog.

Turtles shut down JFK runway: "Aviation authorities say dozens of flights were delayed at New York's Kennedy airport after about 150 turtles crawled onto the tarmac in search of beaches to lay their eggs."

Allison Janney joins Chris Colfer's Struck by Lightning.

Anti-gay NHL agent Todd Reynolds loses client over Twitter remarks.

Johnny Weir glams it up for MAC cosmetics.

Michele Bachmann surges in PPP poll: "We've never found her leading one of our state polls until now but Michele Bachmann's been on fire for the last two weeks and we find her at the top of the GOP field in both Oregon and Montana when Sarah Palin's not included. That's just more indication that if Palin ends up not running Bachmann will pretty instantaneously vault to co-front runner status with Mitt Romney, provided she can continue her current momentum." Ex-Bachmann aidecalls her unprepared for presidency.

From Knoxville with love: Johnny Knoxville eulogizes Jackass star Ryan Dunn.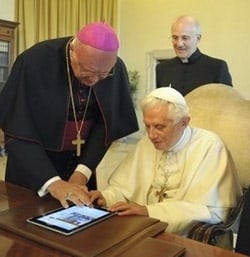 Pope uses iPad, tweets. Is Grindr next?

Anna Paquin on her bisexuality: "Frankly no one had ever asked me before… There is a lot of prejudice against us but the more people talk about it, the less of a deal it will be. Who people choose to sleep with – or spend their lives with-shouldn't matter, not that anyone particularly cares who I'm attracted to."

Most in LGBT don't even know of Wikileaks soldier Bradley Manning.

Arjan chats with French DJ and producer Martin Solveig.

USAID to designate coordinator for LGBT issues overseas: "Donald Steinberg, USAID's deputy administrator, unveiled plans to create the new position during a panel discussion in which officials discussed ways the State Department was integrating LGBT concerns abroad as part of U.S. foreign policy. 'In order to highlight these concerns, we're pleased to announce that USAID will shortly name a senior coordinator for sexual orientation and gender identity who will be responsible for advising the USAID administrator on this agenda,' Steinberg said."

Daniel Radcliffe honored with Trevor Project Hero Award.

Robert Pattinson hit with pie.

The intoxicating Marula Trees of South Africa.

Atlanta Police Department misses court-ordered deadline to report on internal investigation into the 2009 raid on the Atlanta Eagle. UPDATE: Report says police didn't follow procedure. "Mayor Kasim Reed and Chief George Turner have made the resolution of this matter a top priority and will review both reports. Chief Turner will determine appropriate disciplinary action in short order."

Trans advocates stand by accused killer of bar patron in Minneapolis.

Southern Baptists hit by hoax: "Officials with the Southern Baptist Convention said they have been the victim of an elaborate online hoax that included a phony news release announcing that the nation's largest Protestant denomination had changed its position on homosexuality. The release was sent to an unknown number of reporters and directed readers to a website designed to replicate the real Southern Baptist Convention website, along with working telephone numbers where individuals identified themselves as employees of the SBC Executive Committee."