A new Daily Beast story on Michele Bachmann reveals that Bachmann once called the police on a lesbian couple at a constituent forum and claimed she was being "held against her will" in a bathroom when one of them started to ask her questions: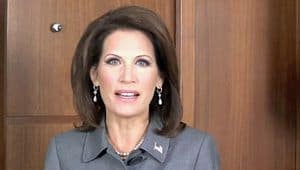 A few dozen people showed up at the town hall for the April 9 event, and Bachmann greeted them warmly. But when, during the question and answer session, the topic turned to same-sex marriage, Bachmann ended the meeting 20 minutes early and rushed to the bathroom. Hoping to speak to her, Arnold and another middle-aged woman, a former nun, followed her. As Bachmann washed her hands and Arnold looked on, the ex-nun tried to talk to her about theology. Suddenly, after less than a minute, Bachmann let out a shriek. "Help!" she screamed. "Help! I'm being held against my will!"
Arnold, who is just over 5 feet tall, was stunned, and hurried to open the door. Bachmann bolted out and fled, crying, to an SUV outside. Then she called the police, saying, according to the police report, that she was "absolutely terrified and has never been that terrorized before as she had no idea what those two women were going to do to her." 
This was shortly after she hid in the bushes at a gay rights rally at the Capitol to avoid been seen. I wrote about this back in 2005.
The article also details her belief in gay "reparative therapy":
Both she and her husband, by all accounts her most trusted political adviser, believe that homosexuality can be cured. Speaking to a Christian radio station about gay teenagers last year, Marcus, who treats gay people in his counseling practice, said, "Barbarians need to be educated. They need to be disciplined, and just because someone feels this or thinks this, doesn't mean that we're supposed to go down that road."
Read the whole frightening thing here.