Some additional insight into NYC Mayor Michael Bloomberg's visit to Albany yesterday: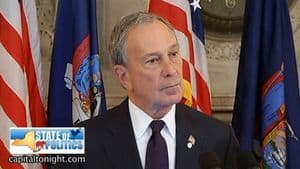 "I said look, you got to take a vote," Bloomberg said on his weekly radio show this morning.
"They should stand up and be on record whether they vote the way I would like them to or not," he said. "Democracy is best served by elected officials saying explicitly what they stand for, and why and not trying to hind behind 'Well, I didn't get a chance to express myself.' "
Read this morning's update on the situation in Albany here. A group of Republicans is demanding extra religious exemptions in the bill, but when asked to supply those details, they won't. 
I'll keep you updated as the day progresses.