The White House continues to be pressed on Obama's same-sex marriage position. From yesterday's press briefing: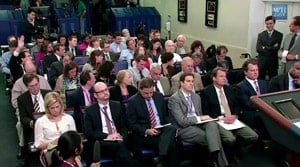 Q Jay, I want to come back to the same-sex marriage issue, if I can. If the right to — if the opportunity to enjoy the same rights, same-sex couples or straight couples or whatever, is a basic civil right, how can you square that with saying we leave it up to the states?
MR. CARNEY: Well, look, I'm not going to — the President has made his position clear. It's not very useful for us to have this debate. I think the President spoke about this on Thursday. He spoke about it — sorry, he's spoken about this a number of times in the past. So you could take it to other places but I think I'll leave it to what he said.
Q Let me ask this, then. But with New York being the largest state so far to recognize same-sex marriage, are you concerned that the President may have missed his opportunity to lead on this issue?
MR. CARNEY: Again, the President's record on issues involving and of concern to the LGBT community is exemplary and we are very proud of it. He continues to fight on behalf of that community for the rights — for equal rights. And his position on New York, he himself, rather than his press secretary, spoke at length about just a few nights ago. So I'll leave it at that.
Watch, AFTER THE JUMP…