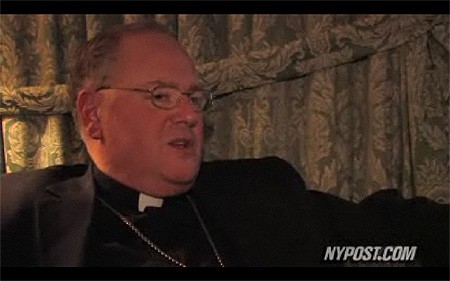 NYC Archbishop Timothy Dolan appeared on Talk1300 am this morning with the New York Post's Fred Dicker and spoke out against the marriage equality bill, praising lawmakers who are standing up against it, Think Progress reports.
Said Dolan: 
This is just perilous, Fred, we feel, to have the state tamper in one of the sacred and established and constituent definitions in the human project, namely the definition of marriage. We just feel it would be detrimental for the common good. We've got to admit we come at this from the posture of religious belief, of biblical morality and we find it unjust and immoral from those grounds. But this goes a little bit beyond this. This is a very violation of what we consider natural law that's embedded in every man and woman and we're really worried as Americans that it's going to be detrimental to the common good.
Capital Tonight writes:
During an interview with Fred Dicker on Talk1300AM, Dolan specifically thanked several of the undecided Republican Senators, Greg Ball, Andy Lanza, and Stephen Saland for strongly considering the impact a yes vote on same sex marriage will have on religion.
He also addressed the ongoing discussion about drafting a bill with carve outs that protect religious organizations. Dolan says Governor Cuomo reached out to the Catholic church and asked them if they would lend some of their lawyers to help draft legislation. Dolan says they were happy to help, but they still are adamantly opposed to passage of the bill.
Listen, AFTER THE JUMP…
In related news, Brooklyn Bishop DiMarzio was spotted entering Majority Leader Dean Skelos' office this morning.