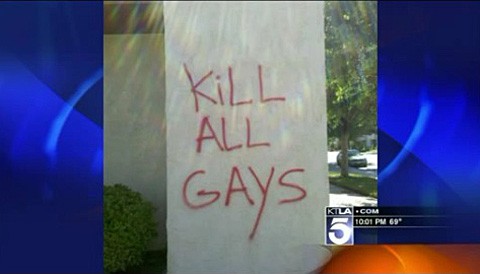 Anti-gay graffiti advocating the murder of gays was found in several places in Lancaster, California early Sunday, the Los Angeles Daily News reports:
Deputies first went to the businesses in the 44200 block of 10th Street West at 9:54 p.m. Sunday in response to a vandalism call and found the anti- gay graffiti, said Lt. Richard Daniels.
The lieutenant described his reaction as "revulsion," noting, "No one wants to see that."
The graffiti short-lived, but was photographed for evidence. "It was only up for about an hour and then removed," Daniels said.
The sheriff's hate crimes detectives will investigate the case, Daniels said. They will coordinate their efforts with the FBI in a task force to identify hate crimes that should be prosecuted federally when suspects are identified and arrested.
While the motivation behind the graffiti is unclear, news outlets immediately made the connection between it and the vote for marriage equality in New York.
Watch reports from KTLA and ABC7, AFTER THE JUMP…
ABC7's report: