In a major victory for gay rights groups in Wisconsin, a judge ruled yesterday that the state's Domestic Partner laws are constitutional and don't violate the state's ban on same-sex marriage.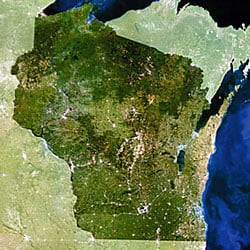 Why? Because the rights afforded in them are pathetic compared to those offered to legally married heterosexual couples.
Wrote Dane County Circuit Judge Daniel Moeser:
"The state does not recognize domestic partnership in a way that even remotely resembles how the state recognizes marriage…Moreover, domestic partners' have far fewer legal rights, duties, and liabilities in comparison to the legal rights, duties, and liabilities of spouses."
Wisconsin Family Action, the group pushing to remove the Domestic Partnership law, says they'll appeal all the way to the Supreme Court.
Approximately 1,700 couples are signed up as Domestic Partners in the state, according to Fair Wisconsin.
Last month, Governor Scott Walker filed a motion asking a judge to allow the state to withdraw from defending the state's domestic partner law because he believes it violates the constitution which says marriage is between a man and a woman.
The AP notes: "The judge already had heard arguments in the case by the time Walker submitted his request."