In a new interview with Popeater, Dancing with the Stars' Mark Ballas is asked if he'd be up for partnering with Ricky Martin as a same-sex pair in the competition.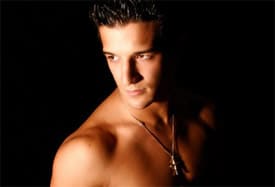 Says Ballas: "I'd be down!"
This, of course, is a purely hypothetical partnership, as there are no reports Martin has been asked to join the show.
Ballas says he'd be fine with being the first guy, in any case:
"I would be totally cool with it. There are other competitions where they have same sex couples. I'd support it. There is a slight inherent disadvantage. Two girls and two men just can't move like a man and a woman. But you can try."
Ballas also reveals that there is only one gay dancer on the show.