The Seattle Space Needle, which earlier this month said it would not be flying a Gay Pride this year, and perhaps not ever, has changed its tune a bit. It now says it will fly the flag if people donate $50,000 to charity, King5 reports: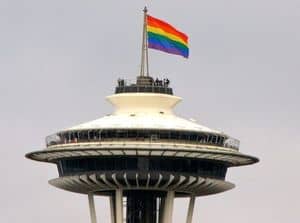 On their Facebook page, they announced if the community can raise $50,000 for charity, the Rainbow Flag will fly on top of the Space Needle on Sunday of Gay Pride weekend, June 26.
The $50,000 will go to four pre-selected charities: the Greater Seattle Business Association (GSBA) Scholarship Program, Lambda Legal, It Gets Better for the Trevor Project and Mary's Place, a homeless shelter for women and children.
Mary Bacarella, Space Needle spokesperson, said after flying the Pride flag last year, they wanted to include a community-wide effort this time around. 
The Space Needle's announcement has infuriated commenters on its Facebook page, angry that the landmark is spinning the charity angle as a condition to support Seattle's LGBT population with the Pride symbol.