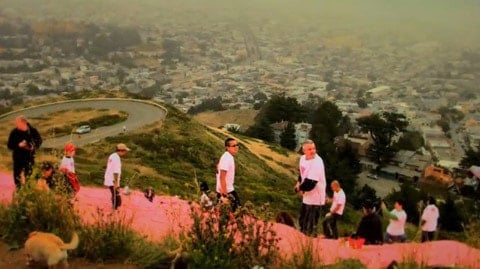 Videographer and activist Sean Chapin chronicles the annual construction of the Pink Triangle on San Francisco's Twin Peaks.
Watch, AFTER THE JUMP…
From ThePinkTriangle.com, the Pink Triangle is an annual commemoration of the gay victims of the Holocaust and a reminder of the on-going inhumanity to repressed minorities going on now around the world. The event transforms Twin Peaks, in San Francisco, into a memorial that can be seen from miles away. The goal of the Pink Triangle event is to remind people that even though the hatred that existed in Germany 70 years ago that led to the creation of the Pink Triangle no longer exists there, such hatred certainly persists in many parts of the world including Uganda, Malawi, Iran, Iraq, and Afghanistan.