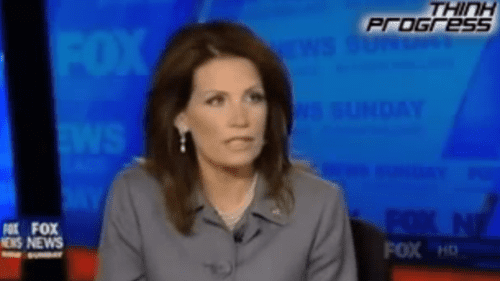 Michelle Bachmann appeard on "Fox News Sunday" this morning speaking about her support for the marriage equality law sanctioned by New York's state legislature this weekend. Said Bachmann: "It's state law. And the 10th amendmet reserves to the states that right."
But she also said that she would support a federal constitutional amendment that would reverse same-sex marriage in the country, thus banning it from the states in which it is currently legal. The Hill points out that Bachmann, who has been a consistent advocate for state's rights, is full of contradictions on the issue.
Rep. Bachmann claimed that while New York's new law approving same-sex marriages which was signed by Gov. Andrew Cuomo on Friday was "up to the people of New York", the debate over defining marriage was "a state issue and a federal issue." She added that "federal law will trump state law on this issue."

"States have, under the 10th Amendment, the right to pass any law they like. Also, federal officials at the federal level have the right to also put forth a constitutional amendment", said Bachmann.

She said her support for states' rights as well as a federal amendment was "entirely consistent".

In a New Hampshire debate for 2012 GOP presidential hopefuls on June 13, Bachmann had been asked about a state law allowing gay people to marry. At that forum she said "I do believe in the 10th amendment and I do believe in self-determination for the states."
Watch a clip of her appearance on "Fox News Sunday", AFTER THE JUMP.