Democratic Arkansas Governor Mike Beebe became the first sitting governor of that state to address a gay rights group on Tuesday night, Reuters reports, speaking to the Stonewall Democrats in a church in Little Rock: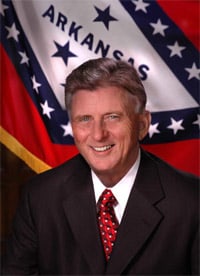 During a question and answer session, Beebe said an Arkansas newspaper should not have to run the name of a life partner in an obituary if that was the paper's policy. Many in the crowd loudly disagreed, as they did when Beebe said he didn't believe in gay marriage.
"I think marriage is … as defined by the law," he said, saying unions should be between a man and a woman.
"That's something we disagree on," he said.
When asked if he thought marriage or civil union laws would ever become legal in Bible Belt Arkansas, Beebe said no.
Beebe also spoke about gay adoption and foster care, and employment discrimination:
As an example of how his views on gay rights have changed over time, Beebe pointed to his acceptance of gay couples as possible foster parents. Five years ago, Beebe supported a ban on gay foster parents.
In response to a question, Beebe said he doesn't think employers should discriminate based on sexual orientation.
"I think you ought to be judged by how well you do your employment. Period," Beebe said. He stopped short, though, of endorsing legislation that would ban employment discrimination based on sexual orientation.
Listen to audio from Beebe's Q&A, HERE.
UPDATE: Igor Volsky at Think Progress has more on the meeting, including this bit.
As the question and answer session went on, Beebe seemed unaware that Arkansas did not have a law prohibiting employers from firing individuals on the basis of sex or gender identity and initially claimed that it was illegal for a business to fire an employee because she or he is gay. He was corrected by the crowd and sounded embarrassed by the snafu. 
Listen, AFTER THE JUMP…