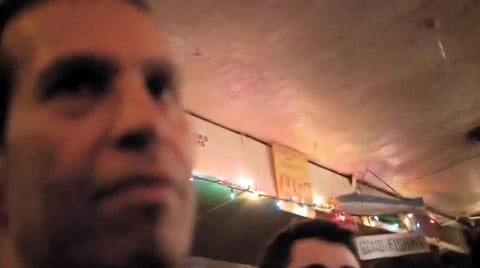 Former RNC Chair Ken Mehlman, who The Daily Beast reported this week has exerted his fundraising influence in recent months in efforts to sway Republicans on marriage equality, was confronted at a bar by activist Jon Winkleman while celebrating the New York victory on Friday night.
Demands Winkleman: "Weren't you responsible for the FMA and all the anti-gay marriage stuff…as the former head of the RNC?"
Replies Mehlman: "I'm focused on other stuff…including New York stuff now."
Winkleman scolds Mehlman before being told "good night" by his companions.
Explained Winkleman of the ambush: "I know he helped with the efforts to pass marriage in NY but he still supports those who do us harm. Also his cynical anti-LGBT campaigns at the RNC fanned the flames of hate and violent hate crimes increased in the districts they focused. LGBT people were hurt…physically, because of Mehlman's actions. So of course I had to go over and say something."
Watch, AFTER THE JUMP…
Michelangelo Signorile played audio of this clip in his radio show yesterday, and then asked callers whether the LGBT community should forgive Ken Mehlman for his past transgressions and move on, given the trajectory he now appears to be on (with the NY marriage fundraising, and also as a fundraiser for the fight against Prop 8) as an out man? Most of Signorile's callers appeared to be unforgiving, at least for now. Others disagree.
What are your thoughts?