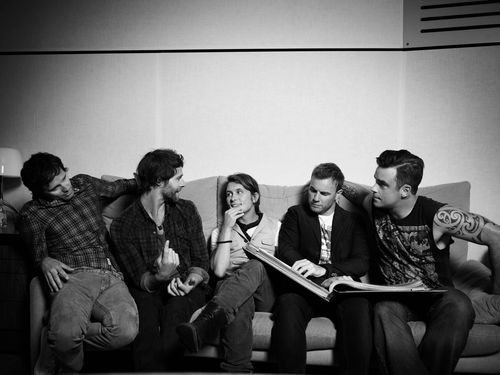 Norman Brannon is a pop critic, musician, and author based in New York City. He presents a weekly music update here on Towleroad and writes regularly at Nervous Acid.  
Follow Norman on Twitter at @nervousacid.
EXTENDED PLAY:
Take That Progressed (Polydor UK)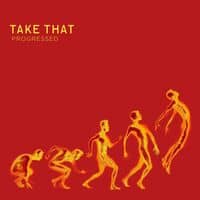 First of all, let's not be delusional about it. When Take That became a Beatles–sized phenomenon in the U.K. in the early to mid-'90s, they were both one notch above New Kids on the Block and one notch below: One notch above, perhaps, because band member Gary Barlow was actually a co-songwriter on all of their material since the beginning, and one notch below because taking off your shirt was a non-negotiable part of the audition process. (Needless to say, their pecs and abs were in fine order.) But something happened along the way, and it's a story that remains unprecedented in the last 30 years of boy band history: In the ten years that it took for Take That to break up and get back together, all five members somehow managed to become accomplished songwriters in their own right, and the resulting comeback records — 2006's Beautiful World and 2008's The Circus — were pleasurably sophisticated self-written albums that objectively validated this development. Last year's Progress was the first Take That album to feature Robbie Williams since 1996, and it was, by all accounts, the band's second reinvention. Progressed, an 8-song EP out today, is an extension of that sound — a retromodern synth-based pop produced by Stuart Price, whose work with the Killers and Keane are good reference points here — but it's also their first attempt to integrate the current direction with the anthemic orchestral pop that defined their first comeback: Album opener "When We Were Young" merges acoustic and electronic elements with Williams and Barlow's wistful back-and-forth and "The Day The Work Is Done" suggests that Mark Owen — whose solo albums veered more towards British indie rock — is Take That's most under-appreciated talent. If Progressed makes a wrong turn anywhere, it's arguably when the band falls too far back into the mid-'90s schmaltz and pomp of overwrought ballads like "Don't Say Goodbye." Because, as the album's title implies, Take That have always seemed to fare better when they're moving forward.
THE DISPATCH: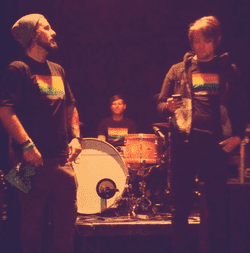 Currently out on a co-headlining tour with Taking Back Sunday, Thursday's Lukas Previn composed an interesting tweet on Saturday in which he revealed that the band had been tipped off to a potential protest of their Seattle concert by the Westboro Baptist Church. In response to the Westboro rhetoric, and in solidarity with the gay community, Previn tweeted, "We all are wearing pride flag t-shirts and Geoff and I just got called sodomites." A photo of the band wearing these rainbow flag t-shirts on before the show surfaced on the Internet, but Westboro were, at last tweet, a no-show.

 This week's most bizarre story: Two men were arrested in an alleged plot to murder British singer Joss Stone. The men were arrested outside of her home carrying swords, rope, and a body bag. For her part, Stone is not unhinged: "I'm all good," she said. "People are crazy, but that's OK. I'm carrying on, I'm painting my bathroom. I'm baking cakes."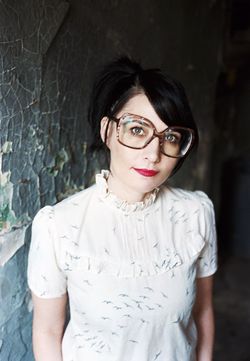 Were it not for Bikini Kill and Le Tigre frontwoman Kathleen Hanna, the space in rock music that occupies radical feminist activism and queer empowerment would be a whole lot emptier. This week it was announced that her latest project, The Julie Ruin — which also features Bikini Kill's Kathi Wilcox and Kiki and Herb's Kenny Mellman — are currently recording an album slated for release in January.

 The electronic dancehall of Switch and Diplo's Major Lazer project gets put to good use on this remix of Beastie Boys' "Don't Play No Game That I Can't Win," which also features Santigold on the hook.

 In addition to his forthcoming "techno album" with Depeche Mode's Martin Gore, this week Vince Clarke announced the return of Erasure. The duo will be touring in America this summer, while the new album — called Tomorrow's World and produced with Frankmusik — gets its release in the fall.

 In case you missed it, Patti Smith inexplicably appeared on this weekend's Law & Order: Criminal Intent to play "Columbia University mythology professor Cleo Alexander." You can watch the clip now.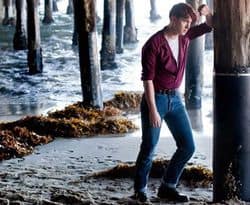 One more week until Patrick Wolf's Lupercalia makes its way to the States as an import, but until then, enjoy this top-of-his-game cover of Kate Bush's iconic "Army Dreamers."

 Best Coast's Bethany Cosentino revealed that the video for their forthcoming single "Our Deal" will be directed by Drew Barrymore, and features appearances by iCarly's Miranda Cosgrove, Community's Donald Glover, and that awesome kick-ass girl with the purple hair from, umm, Kick-Ass. In other words, they can't go wrong.
COMING OUT: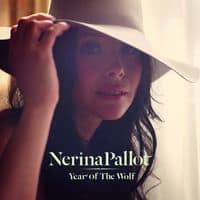 Nerina Pallot's fourth album begins with "Put Your Hands Up" — the song she originally wrote for Kylie Minogue with husband Andy Chatterley, who makes progressive house records under the aliases of Skylark and The Buick Project. In Pallot's hands, it's not an Aphrodite-styled pop number nor a club track, but a vintage, bluesy, guitar-based song — and by the end of its first chorus, it's obvious that hers is the definitive version. Year Of The Wolf is like that: It's a pop album in the sense that the song is the thing, and Pallot's songcraft paired with an unlikely, but necessary production by Suede's Bernard Butler surprisingly positions Wolf for a potential breakthrough of Adele-like proportions. Tracks like "All Bets Are Off" or "I Do Not Want What I Do Not Have" (co-written by Linda Perry) are vintage, but not throwback; they hark to a golden era of pop music but resist the urge to wax nostalgic. In other words, timeless.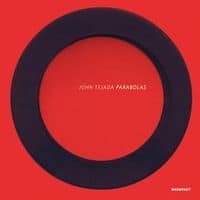 To the world outside of underground techno, John Tejada is probably best known as a technical advisor to The Postal Service's Jimmy Tamborello, who enlisted the producer for help on his James Figurine solo album in addition to working on The Postal Service remix of Feist's "Mushaboom." But in the clubs, Tejada is a respected producer and DJ whose work spans over fifteen years and literally hundreds of tracks. Parabolas is his first album for Kompakt, and with it, Tejada offers a refined sense of musicality and an expanded palette of subdued tricknology. The minimal breakbeat of "Subdivided" or the elegant melodic techno of "The Honest Man" tend to insinuate that Tejada is classically trained, which he is. But they are also cleverly designed to make you forget it.
Also out today: Bon Iver — Bon Iver (Jagjaguwar), Jill Scott — The Light of the Sun (Blues Babe), OK GO — 180/365 (Paracadute), Nico Muhly — Seeing is Believing (Decca), Liam Finn — Fomo (Yep Roc), When Saints Go Machine — Konkylie (!K7), The Get Up Kids — Simple Science EP (Quality Hill), Metronomy — English Riviera (WEA International)
SOUND & VISION:
Matt & Kim — "Block After Block"
The irrepressible Matt & Kim return with the second single from their sleeper third album Sidewalks, and here's the thing: Every time Matt & Kim make a new video, I'm convinced — if only for three-and-a-half minutes — that they're the best band in the world. Or that they should be my best friends. Because you can't not be happy watching this.
Rye Rye — "New Thing" 
It's only been a week since Rye Rye released a video for her collaboration with Robyn; this week, the Baltimore rapper teams up with  fashion designer Prabul Gurung for the second video from her long-awaited debut album. "New Thing" was directed by fashion photographer Kenneth Cappello and showcases Gurung's latest resort collection — which also serves as inspiration for the clip's set and lighting design.
Stars — "We Don't Want Your Body"
Seeing as gay men are often targeted for our alleged obsessions with body image, it's a relief to see Stars shine a light on the straights: Honestly, the men and women who star in "We Don't Want Your Body" make most of the guys on BigMuscle look kind of scrawny.
Belle & Sebastian — "I Didn't See It Coming" (Richard X Remix)
It wasn't until I first heard this track that I realized how overdue Belle & Sebastian were for a remix. Richard X, who has written and produced singles for Kelis and Sugababes in the past, almost effortlessly transforms this indie folk song into a Kylie–styled melodic club track, which — in some sort of alternate universe, anyway — actually has the muscle to put Belle & Sebastian on a modern pop chart.