Former Utah Governor Jon Huntsman, who in 2009 spoke out for Equality Utah's failed 'Common Ground' initiative, officially entered the 2012 race for President today. Huntsman made his announcement at Liberty State Park in New Jersey.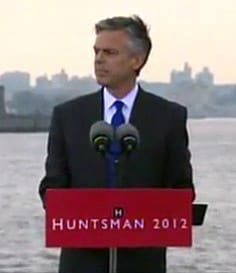 Writes Sam Stein at the HuffPost:
Speaking to reporters on the day of his campaign launch, Huntsman was asked specifically about the growing likelihood of a same-sex marriage bill being passed in New York. Would he seek to overrule Empire State lawmakers should he end up in the Oval Office?
"I would respect the state's decision on that," he replied.
The answer, while brisk, nevertheless sets Huntsman apart from his fellow Republican presidential candidates. Other members of the field have offered sympathy for state sovereignty on matters of marriage. But they have usually couched that by saying they would support a federal ban on same-sex marriage as well.
Huntsman is receiving support from gay Republicans, Politico reports:
…on the eve of the Republican's official kickoff, a consultant for the campaign is fundraising off his support for civil unions.
The email from Charles T. Moran, a vice chair with the California Log Cabin Republicans and a political consultant, highlights Huntsman and his wife Mary Kaye's support for the LGBT community, adding as Utah's governor he's "talked the talk and walked the walk," and is "unique in his desire to have a fully inclusive campaign."
Team Huntsman confirmed Moran, who couldn't be reached, is working for the campaign. His campaign noted that his stand on gay rights is essentially what George W. Bush's was.
Watch Huntsman's announcement, AFTER THE JUMP…
Previously…
Utah Governor on Gay Rights: 'I've Always Thought We Were Behind' [tr]