Lambda Legal today filed a lawsuit seeking marriage equality on behalf of Garden State Equality, New Jersey's statewide LGBT advocacy organization, and seven same-sex couples and their children harmed from the unequal civil union system, the Star-Ledger reports: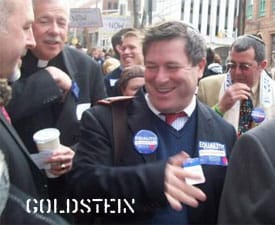 Their main argument is that the state Supreme Court ruled in 2006 that same sex couples should be guaranteed the same rights as heterosexual married couples, but in a 4-3 vote left it up to the Legislature how to achieve that. The minority in that decision said the state needed to allow marriage for same-sex couples.
The Legislature chose civil unions instead, which come with the exact same legal rights.
But plaintiffs said the legal rights are only equal only in theory. They offered stories about trying to visit their partners in hospitals or make medical decisions for them, but being initially denied by staff who did not understand what a civil union was.
The case combines both state and federal claims, according to Lambda Legal. It argues that the civil union law violates both the New Jersey Constitution and the Fourteenth Amendment of the federal Constitution.
Said Hayley Gorenberg, Lambda Legal Deputy Legal Director, in a press release: "The constitutional guarantee of equality under the law does not stop midway through the Lincoln Tunnel. Our clients have been kept from each other during medical crises, denied health insurance, and even discriminated against in funeral homes because their civil unions relegate them to second-class status. New Jersey's same-sex couples have been stuck in a limbo caused by the confusion and indignity of living with an inferior status."
Added Steven Goldstein (pictured), Chair and CEO of Garden State Equality: "By now, everybody in New Jersey knows that civil unions don't work. Since civil unions became law in New Jersey, Garden State Equality has received reports from multitudes of civil union couples who have told us their employers refuse to provide the equal rights and benefits the civil union law mandates. It's time for the courts to fix this mess and give full marriage equality to New Jersey's same-sex couples and their children."
Here is Lambda Legal's website on the lawsuit.
Watch a video Garden State Equality released of John and Danny, two of the plaintiffs in the lawsuit, AFTER THE JUMP…