Yesterday, Governor Andrew Cuomo said that he expects marriage equality to come to New York by the end of next week's legislative session.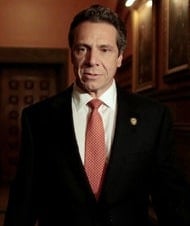 The New York Times reports:
Mr. Cuomo told reporters he believed that religious concerns should be separated from a debate over civil marriage. "I happen to be a Catholic, and that's my business, and that's my religion," he said. "This has nothing to do with my beliefs as a Catholic. This is marriage in a civil context — marriage as defined by government, not by a religion."

Likening the prohibition on same-sex marriage to earlier bans on interracial marriage, Mr. Cuomo said he was encouraged after talks with Republican lawmakers and confident that a marriage measure and his broader agenda would both be approved next week. "This state has a proud tradition and a proud legacy as the progressive capital of the nation," he said in a hallway outside his office. "We led the way, and it's time for New York to lead the way once again."
Meanwhile, state senator Greg Ball, who was one of those who was firm about having religious exemptions in the marriage bill, asked his Twitter followers "if you were me, how would you vote on gay marriage? Yes or No?" Tweet him now to show your support for marriage equality!


Ball's Facebook page has also blown up with comments from both sides of the marriage equality debate.
It's very important that you call or email the senators on this list and tell them to vote for marriage equality in New York.