The New York Daily News reports that New York GOP Senator Greg Ball told Governor Andrew Cuomo last week that unless religious institutions are exempted from holding and participating in same-sex marriages, a bill to legalize them isn't likely to pass.
The NYDN: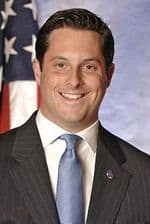 Most contentious is Ball's argument that individuals and businesses – not just religious organizations – who oppose gay marriage should also be exempted from the state's discrimination laws.
"If you're going to pass a marriage bill, real religious exemptions and carveouts to protect the Catholic Church and other religious groups need to be included," Ball told the Daily News.
"Short of that, I don't think you'll see a marriage bill pass."
Gay rights groups say the current laws already cover religious exemptions:
"The religious exemption laws that currently exist will not be changed at all by allowing loving same-sex couples to marry here in New York," said Ross Levi of the Empire State Pride Agenda.
Ball is also pitching alternatives, Gannett reports:
Sen. Greg Ball, R-Patterson, Putnam County, said he's undecided on the same-sex marriage bill but would support civil unions, which would afford gay couples equal rights but not the ability to marry. Gay-rights advocates want marriage equality.
Ball said after passing civil unions, New York could pass a law allowing for issues to be on the ballot — called initiative and referendum — and then let voters decide whether to make gay marriage legal.
"I believe we could immediately pass the most comprehensive civil-union bill in the country and at the same time find a way to constitutionally package an initiative and referendum on gay marriage and put it out to the people," Ball explained.
Seven to eight Senators are officially undecided on the measure, though advocates say there are more opportunities than that.
Now is the most important time for folks to contact New York Senators, particularly those who represent areas of the Hudson Valley and on Long Island, where Towleroad hears pressure from constituents could make a big difference.
Contact your NY Senator using my Friend-setter page at Friendfactor. Your Senator needs to hear from you.