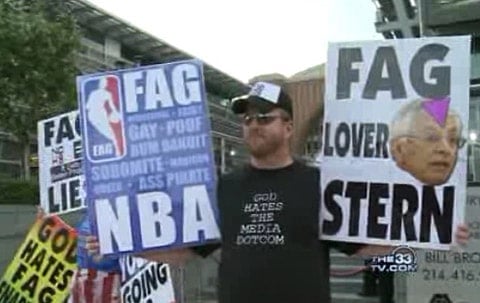 The Westboro Baptist Church has a new target: the NBA and its commissioner David Stern.
The group protested outside the Miami Heat—Dallas Mavericks play-offs game on Sunday, KDAF reports:
But demonstrators didn't get much support from the fans. "I feel really bad for the kids. Adults have their reasons to have signs up. The kids feel like forced upon", said spectator Shantanu Rangnekar.
"It's absolutely sad and ridiculous holding a sign saying god hates f*gs", said spectator Dawn Fisher.
But one man rallied the crowd with his own on counter-protest. "Gay or straight god will love you gay or straight, gay or straight. John 3:16; whosoever believes in him. Not republican, not democrats not straight people, whosoever believes in him, the unidentified man said.
Watch what went down outside the American Airlines Center, AFTER THE JUMP…